Fruit Tree Tour School Program
A 40-min Theater assembly that weaves colorful stories, larger than life puppets, a live band, and relevant, engaging environmental education
A planting of 15-30 fruit trees in the schoolyard with the students. Numerous varieties will fruit during the school year. Yum!
A dynamic 45-minute arts workshops that focuses on articulating vision and goals through words, visual arts, and the painting of orchard signs
Fruit tree care workshop for teachers, parents, community members, groundskeepers, and sometimes students.
Installation of a drip irrigation system for the orchard
Common Vision delivers a day that students and teachers remember forever.
Invite Fruit Tree Tour to your school.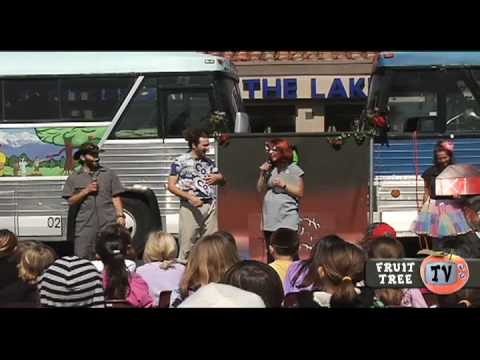 We transform schoolyards into orchards
and put on an amazing show in the process.
The performance brings a live band, professional puppetry, and characters like time traveling professors, urban farmers, and giant talking worms to educate students about the environment, healthy foods, and caring for the health of the community.
The performance challenges students to see their own schoolyard as a place they can make a difference for the local and global environment while improving their community.
Visual arts, music, and celebration teach students the science and importance of environmental issues.
The recycled vegetable oil fueled busses are topped with a solar array that powers the whole performance by the sun!
Invite Fruit Tree Tour to your school.
School orchards are living class rooms.
Students plant their schoolyard with 10-30 fruit trees. The diverse orchard will fruit throughout the school year with a wide spread of delicious varieties.
Think global. Plant local.
Small planting groups explore how their actions locally have an impact on their community and the greater eco-system.
Students cooperate to shovel, pick, move soil, haul water, and tuck in the roots of the new tree.
From plant biology to the importance of fresh food, students look closely at connections between the health of self and environment.
Invite Fruit Tree Tour to your school.
Arts bring kids hearts into learning.
Common Vision's team facilitates dialogues about concepts from the performance and what students see as important in their lives, school, and neighborhoods.
From these dialogues, students work together to create signs that carry inspiring messages and images for their community.
Meaningful Beautification
Signs work as giant labels carrying names of each fruit varieties while infusing the young orchard with colorful reminder of the spirit of cooperation, respect, and earth care they cultivated together.
Invite Fruit Tree Tour to your school.
Moisture, mulch and microlife!
At every school, Common Vision installs an automated Netafim drip irrigation system to assure the trees get just the water they need through the hot California summer.
After each planting, the crew engages what we affectionately call "Mulch-Mania" putting down a 6" deep layer of mulch (wood chips) throughout the orchard. Mulch inhibits weed growth, slows water evaporation, and breaks down over time to provide food for the trees.
Teachers, staff, parents, and communities are initiated into their school's Orchard Care Committee. Each committee gets a 1-hour training during the tour, regular newsletters on tree care, 12-months-a-year email and phone support, and the option to set up on-the-ground support when needed.
The crew finishes the day by inoculating the soil with compost, worm castings, kelp, and other goodies that add billions of micro organisms into the soil ecosystem which collude for optimal tree growth.
Want more orchard support and tree care resources?